CONTACTS / LOCATION
Address
Avda. del País Leonés, 12
24010 LEÓN
TELEPHONE
+34 987 23 79 29
EMAIL
OPENING HOURS
Information desk
Monday to Saturday and opening holidays
10:00am – 10:00pm
Sunday and public holidays
Closed
Supermarket and shops
Monday to Saturday and opening holidays
10:00am – 10:00pm
Sunday
Closed
Cinema
Monday to Thursday
10:00am – 10:00pm
Friday
10:00am – 10:00pm
Saturday
10:00am – 10:00pm
Sunday
10:00am – 10:00pm
Restaurants
Monday to Saturday
10:00am – 10:00pm
Sunday and public holidays
10:00am – 10:00pm
Parking
Monday to Sunday
opened at business and cinema hours
Opening Holidays
January, 2nd and 9th
March, 13th
April, 14th and 23rd
June, 19th and 26th
July, 3rd and 10th
August, 21st
October, 2nd
December, 4th, 8th, 11th and 18th
USEFUL INFORMATIONS
Public Transportation
There is a bus line that goes straight to Espacio León:
13 La Chantría – Area 17
The bus stops are located in front of the main entrance of the Shopping Center and in the area in front of the surface parking.
Lines with stop near Espacio León:
7C Bus Station – Hospitals – El Ejido
9C Hospitals – Bus station – El Ejido
12 Pinilla – Eras de Renueva – University
Taxi stands in the vicinity of Espacio León: Avenida del País Leonés, 10, in the zone of the main entrance
Shopping Centre:
987 237 929
City information:
010
Taxis:
987 231 415
Useful Numbers
Police:
987 255 500
Emergency
112
ABOUT THE SHOPPING CENTER
We present ESPACIO LEÓN, a showcase for fashion, food, home, leisure and catering that you can find in León. Espacio León is a shopping center where shopping, eating and enjoying becomes a reality during all days of the week, all with maximum comfort and convenience. More than 100 shops offer you the main fashion brands for you and your home, restaurants and cafes where you will find a great variety of flavors, a high quality food supply, a Lego Fun Factory, 9 cinemas and all the attention What do you deserve. Do not miss the opportunity to visit Espacio León, a shopping center made for you and your family.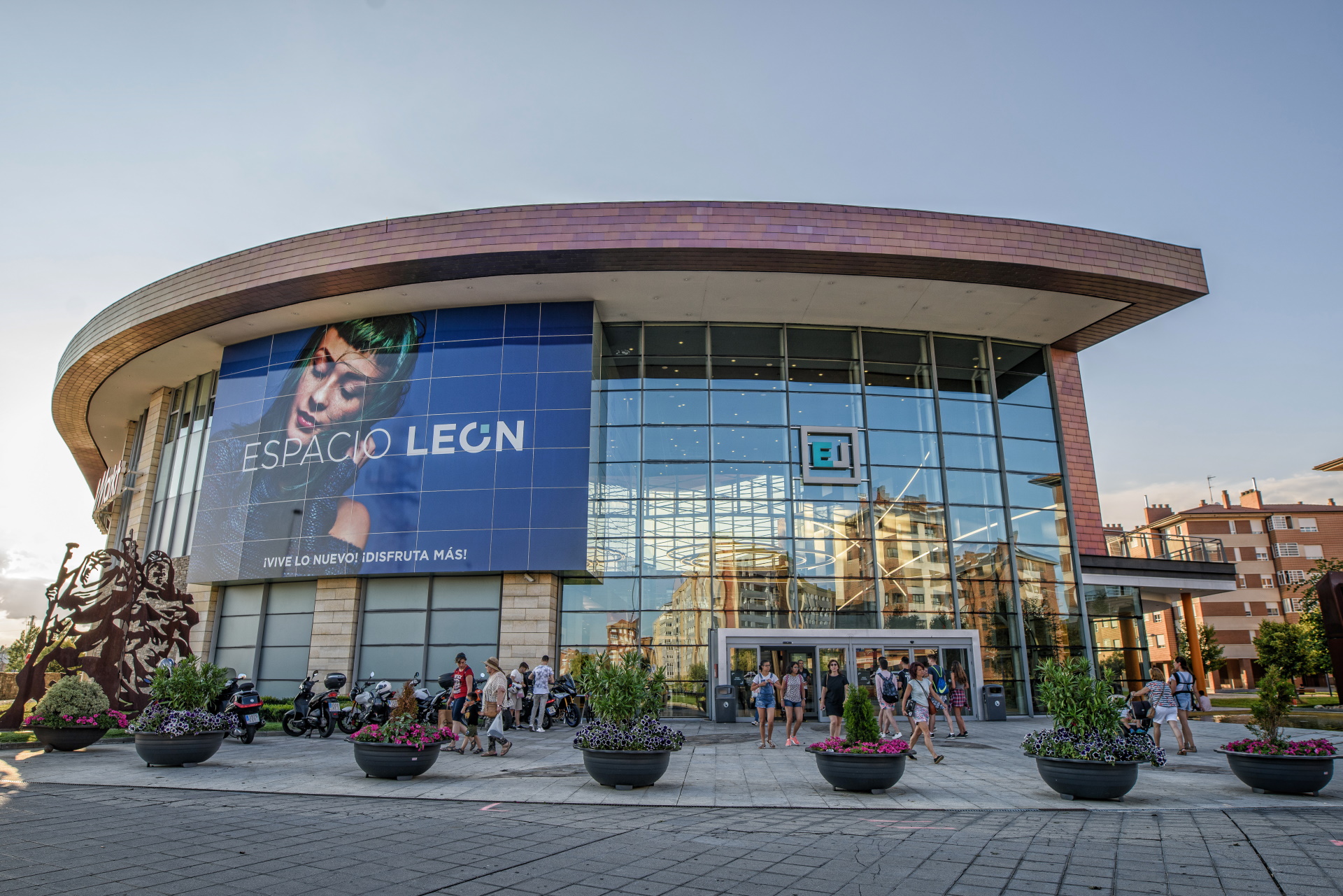 Architecture
Espacio León is an important milestone in the urban development of the capital, forming part of the daily life of the inhabitants of León. With an area of 37,000 square meters distributed in 3 floors destined for commercial use, cinemas and places of leisure and restoration, it also has an underground parking with capacity for 1,300 vehicles and another on surface with 200 more places. Espacio León is located on a large boulevard from where you can reach the center on foot or by car. Its main entrance leads to a large atrium that gives access to the Plaza del Sol. Inside, the Plaza de las Estrellas allows visitors to be distributed around circular corridors interconnected by escalators, which provide direct access to The plants of the center Its avant-garde design, makes it a unique building that integrates perfectly in the environment, thanks to its architectural features and the use of noble materials such as iron, steel and glass and other natural materials typical of architecture Leonesa, like the stone maragata and the stone of the Boñar, have allowed its perfect integration. Espacio León has been awarded several times, being a finalist in 2006 of the ICSC Awards in the category of Best Medium Business Center, and receiving the award for Best Small Business Center awarded by the Spanish Association of Shopping Centers in 2007.
Environment
Espacio León invests and permanently works on its environmental policy to guarantee the use of sustainable energy, reuse of waste water and reduction of consumption of fossil fuels among others, betting also on innovation and education. Its priority objective is to guarantee an excellent quality of life in its area of implementation, which must meet the needs of the inhabitants of León. As a result of the implementation of its environmental policies, in December 2016 Espacio león obtained the BREEAM In-Use International certification with an excellent score. Breeam In-Use is the world's most prestigious method for assessing the impact on sustainability. This method is used by investors, owners, management companies, etc., to establish improvement plans that allow maximum efficiency gains in asset management. Espacio León has been certified by BREEAM In-Use International analyzing the following parameters: Part 1 – Individual rating: OK. 60.17%. In this part of the process the characteristics and the behavior of the building have been evaluated taking into account its structure and form, its construction and its facilities. The categories that have achieved maximum ratings have been waste management (100%) and materials (96.43%). The star rating has been: 4 stars. Part 2 – Management of the building: EXCELLENT. 80.11%. In this part of the process, additional policies and means related to building behavior have been evaluated: energy control (heating, cooling, ventilation, humidification, lighting, etc.), water consumption in all spaces, waste management systems Paper and other recyclable materials, waste management of restaurants and cafes, electronic waste, etc.) and carbon footprint (reducing emissions by optimizing processes), among others. The categories that have achieved the best results are: land use and ecology (100%) and pollution (90.48%). The star rating was: 5 stars. Currently in Spain, only 74 shopping centers (among the more than 500 that are in operation) have been certified. Only 3 are in Castilla y León, and is the first to get it in the city of León. BREEAM In-Use certification allows the monitoring of many parameters that will allow us to continue to reduce building costs.
You can also consult the  Environmental Statement here.
FAQ
Are there ATM's?
Espacio León has several ATM's: Banco Santander, in Plaza del Sol (Floor 1) and Bankia, close to H&M (Floor 1); Caja España and ING Direct, close to Supercor (Floor 0).
Where's the Info Desk?
The Info Desk is located close to the shopping center main entrance (Floor 1).
Where are the Rest Rooms?
You have at your disposal 4 Rest Rooms in the three floors of Espacio León. Each Rest Room includes Men, Ladies, Family&Babies and Disabled toilet.
Are there dedicated baby feed and diaper changing rooms?
In each of the floors there is a dedicated room equipped with sofas, microwaves and diaper changing.
Where is "Lost&Found"
You may find the "Lost&Found" service at the Info Desk located close to the shopping center main entrance (Floor 1).